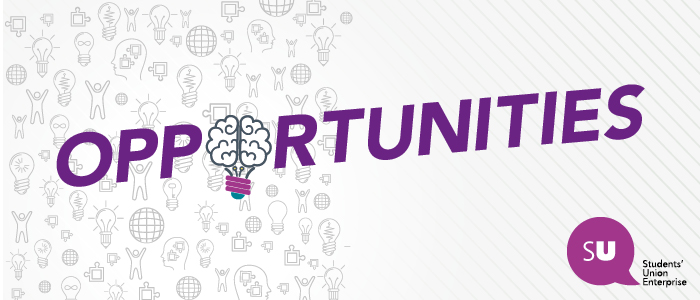 Internship Opportunities - Enterprise SU
We are on the hunt for our new Enterprise intern!
Contribute to the vibrant Student Development Team in the Students' Union by increasing awareness and participation amongst students in personal development activities outside of the lecture theatre.
As an intern you will assist the Student Development Team in the promotion, administration and facilitation of enterprise initiatives.
As part of the Student Development Team, your work would include coordinating the advice and mentoring service, supporting programmes and activities and promoting volunteering and entrepreneurship to students.
This post is available from 18 September 2017 to 31st May 2018, working up to a maximum of fifteen hours per week with payment approx £7.05 to £7.50 per hour (dependent on age).
Catriona Henry, intern from 2016/17, says:
"Working in the Enterprise SU office over the past year has been amazing! The team are great, the work is really exciting and interesting, and it's really opened my eyes to everything that the Students' Union has to offer. The hours are flexible and are made to fit around your schedule. The different programmes allow you to meet a range of people from across the university and in the wider community.
This internship allows you to gain brilliant experience for whatever you decide to go onto next! The skills you gain are endless; from chatting to students at the Freshers' Fair, creating newsletters, updating the website and even doing lecture shout-outs, this job really keeps you on your toes. I would happily recommend it to anyone passionate about engaging with students in Enterprise and Volunteering at QUB... "
Applications are now closed and will reopen in June 2018.