Your time at Uni is about making lifelong friends, discovering new passions, and having incredible experiences that you'll member forever. Come along to our biggest Freshers' Fair to find out how we can help you do all this and more!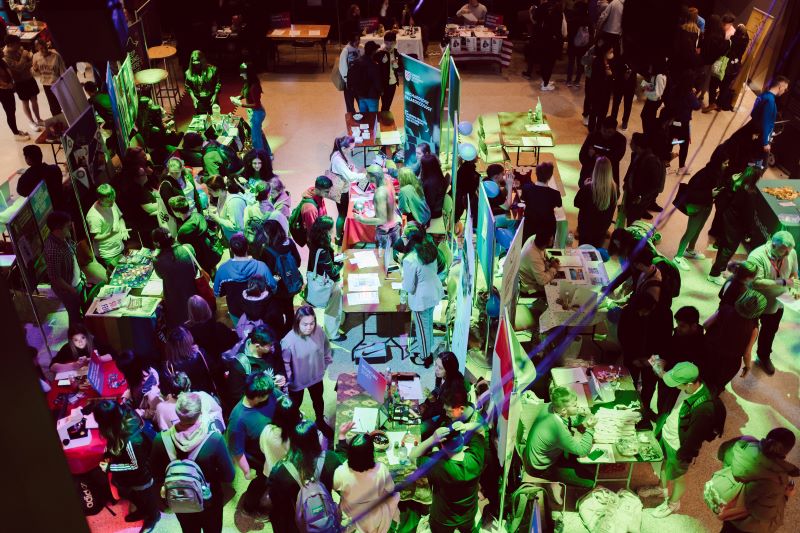 ---
Day 3: Academic and Medical Societies
Come along to our biggest Freshers' Fair yet to:
Meet 100+ of our Clubs & Societies - ranging from academic, creative, charitable, cultural, political, religious to sporting and everything in between, there's something for everyone whether you're a total newbie or a seasoned pro!
Meet your Student Officers and have the chance to hear about the opportunities to get involved in becoming a Rep yourself
Find out more about the wide range of volunteering and enterprise opportunities available to you as well as hearing from our friendly advice team.
Looking for something specific? Check out the Clubs & Societies schedule:
Tuesday 26 September: Non-Academic Societies
Wednesday 27 September: Sporting Clubs
Thursday 28 September: Academic and Medical Societies
Quiet Hour
This year, we are running a Quiet Hour each morning of the Fair, designed to support our students with sensory issues, varying levels of mobility, or those who would prefer a quieter, less busy event. The Quiet Hour is from 10.30-11.30, numbers are capped, so please register if you would like to attend during Quiet Hour. You can register for the quiet hour here: Freshers' Fair - Day 3 - Quiet Hour
From 11.30 the event will open to all attendees on a drop-in basis.
Participating Stalls
Accounting Society
Aerospace Society
African & Caribbean Society
Alliance Society
Alpro
American Studies Association
Anaesthesia & Critical Care Society
Arab Society
Ballyhackamore Credit Union
Belfast Marrow Society
Biomedical & Human Biology Society
BioSciences Society
Brainwaves NI
Cardiology & Cardiothoracic Society
Careers, Employability & Skills
Catholic Chaplaincy
Chemistry Society
Christian Medical Fellowship Society
Coca Cola Zero
Computing Society
Deafblind UK
Disability Services
Disabled Students' Association
Domino's
Electronic Music Society
Engineering Society
English Society
Environmental Action Students' Association
Fighting Words NI
Finance & Actuarial Society
French Society
Friends of the Earth NI
Geography Society
Global Skills
Habitat for Humanity Ireland
Hollywood Bowl
Hope 4 Life NI
Law Society
Lawyers Without Borders Society
Lifestyle Medicine Society
Literi‑c (Debating Society)
Marine Biology & Zoology Society
Midwifery Society
Mind Matters Society
NIACRO
Nigerian Society
North West Care
NI Science Festival
Nutritank Society
Ophthalmology Society
Pharmacy Society
Philosophy Society
Physics & Maths Society (PAMSOC)
Praxis Care
Pre-Hospital Care & Emergency
Medicine Society
QUB RAG
Queen's Film Theatre
Queen's Language Centre
Queen's Sport
Queen's Students' Union
Queen's University Symphony Orchestra
Red Bull
Red Cross
Robotics Society
Scrubs Society
Sign Society
Spanish & Portuguese Society
St John Ambulance Society
Student Wellbeing
Students Working Overseas Trust (SWOT)
SU Advice
SU Enterprise
SU Mental Health & Wellbeing
SU Volunteer
Table Tennis Club
Tayto
Teddy Bear Hospital Society
The Library
The Welcome Organisation
Translink
We Are Donors Fionntán
WoMED Society
Women in Engineering Society
Women in STEM Society
Women Students' Association
Department

Students' Union