We have asked some of our volunteers to tell us what they thought of their experience.
Read on to find out what they got out of volunteering and what you could too.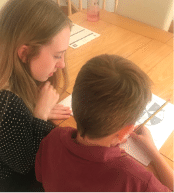 Olivia Grocott
Final Year Law Student
Homework Clubs Volunteer
"Having moved a considerably far way for uni, I wanted to get involved in the local community. I also hope to do a PGCE once I am finished my law degree, so I wanted to get experience working with children and young people.
Since my first year at uni I have volunteered with Homework Clubs. I mainly have helped children with their homework and studying for tests but in other clubs they play games, encourage cross-community activities and help develop more practical skills like cooking.
It's been a fantastic opportunity getting to meet the children and contributing to their education and potential to achieve in the future. Volunteering has increased my confidence and allowed me to meet University students from other disciplines that I wouldn't have the chance to meet otherwise.
I would definitely recommend getting in touch with Volunteer SU about Homework Clubs. Not only is it a great way to socialise, but you can make an actual difference in the community!
Don't be scared, everyone is friendly and in the same position, and so many people take part, no matter what degree you study or what you want to do."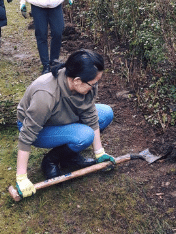 Xie Pingping
Teaching English to Speakers of Other Languages Student
Handy Helpers Volunteer
"My motivation for volunteering is simple, I want to do something good and meet nice people who are doing nice things. It's all about being positive - I always feel happy during and after volunteering.
As an international student, being involved in various volunteering activities can also help improve my language skills and help me get more involved with my local community.
With the help of Volunteer SU, I've done one-off and long term volunteering like bag packing at Tesco, fundraising for homeless people's mental health and helping to allocate and deliver food at Fareshare NI.
I would highly recommend getting involved in all kinds of volunteering while at Queen's. Get in touch with Volunteer SU, they will provide you with everything you might be interested in and you'll have some craic with nice new friends at the same time!"