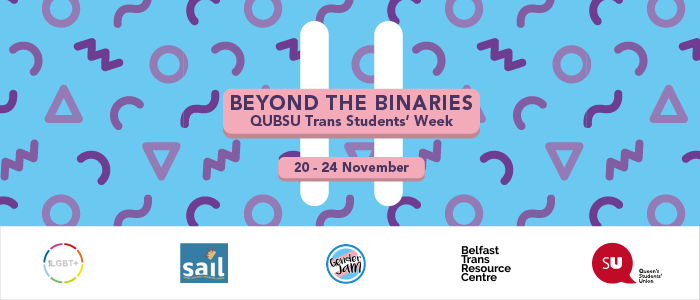 Who's running the campaign
Rachel Powell, Student Officer Equality & Diversity, alongside QUBSU LGBT+ Society, Belfast Trans Resource Centre, Genderjam and SAIL NI.
What we want to change and why we want to change it
Queen's University Belfast recently introduced a Trans Equality Policy and your Equality & Diversity officer is using her remit to put this policy to practice.
It is essential that we empower trans and non-binary students and staff and that they know that they are valued in university and wider society.
Furthermore, many people are confused with the differences in gender identity and sexual orientation and it is imperative that people become aware of the differences within the LGBT+ community and that trans, non-binary and intersex people have safe spaces to come together to discuss their experiences, expand their skills and to have some fun!
We have teamed up with QUB LGBT+ Society, Belfast Trans Resource Centre, GenderJam NI, SAIL NI and Non-Binary NI to make the event-packed 'Beyond the Binaries: QUBSU Trans Students' Week'. We have a range of events that are open to everyone and others that are specific to the trans, non-binary and intersex community.
Events will range from remembering trans and non-binary people who have passed away through transphobic violence and suicide, to showcasing the skills of trans and non-binary artists and performers, to an empowering conference for trans activists and educational sessions for staff and a trans movie night.
Check out our What's On section to see what may be of interest to you!