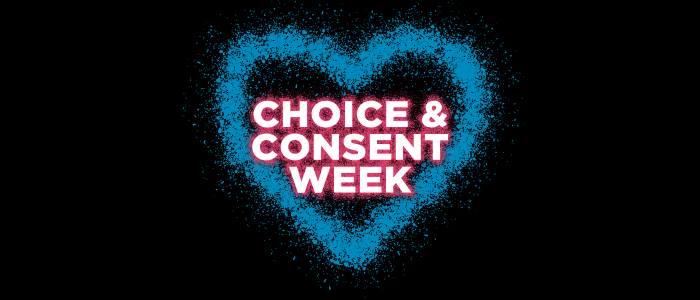 Campaign
Choice & Consent Week
Who's running the Campaign
Rachel Powell, Student Officer Equality & Diversity, Jessica Elder, Student Officer Welfare, Project Choice and SWAG
What is the Campaign about?
We are committed through policy to campaign for the full decriminalisation of abortion in Northern Ireland.
In NI, abortion is only available where there is risk to the life or long term physical or mental health of the pregnant person, which excludes cases of fatal foetal abnormality, or a pregnancy resulting from sexual crime.
Change is needed to give everyone full bodily autonomy, and we are we have a dedicated team of Project Choice Ambassadors representing a diverse range of students at Queen's Students' Union, fighting for this right in Northern Ireland and the Republic of Ireland.
We are also committed to a zero tolerance of sexual misconduct in all its forms and actively campaigns on the education of Consent, communication and support services. Consent can seem like a daunting topic but the more conversations we have about it, the less scary it becomes.
Therefore, we have created Choice & Consent Week to bring together a range of events relating to choice and consent.
Making Change Happen
Our Project Choice Ambassadors and SWAG members have been busy all year working on choice and consent.
We're now bringing you this exciting new campaign which is much needed ahead of the upcoming referendum on repealing the 8th amendment and after the crucial Consent is BAE Workshops and SCORE survey results on non-consensual sexual experiences for students at Queen's.
We want to provide a space for students to reflect through art on their experiences at our 'Clothesline Project', to have fun and learn some myth-busting facts at our quiz, meet the students and external organisations campaigning on these issues, join us in a 'Choice Roundtable', receive training on campaigning and more.
What's On
Check out what's on and follow us on Facebook