Student Officer Surgeries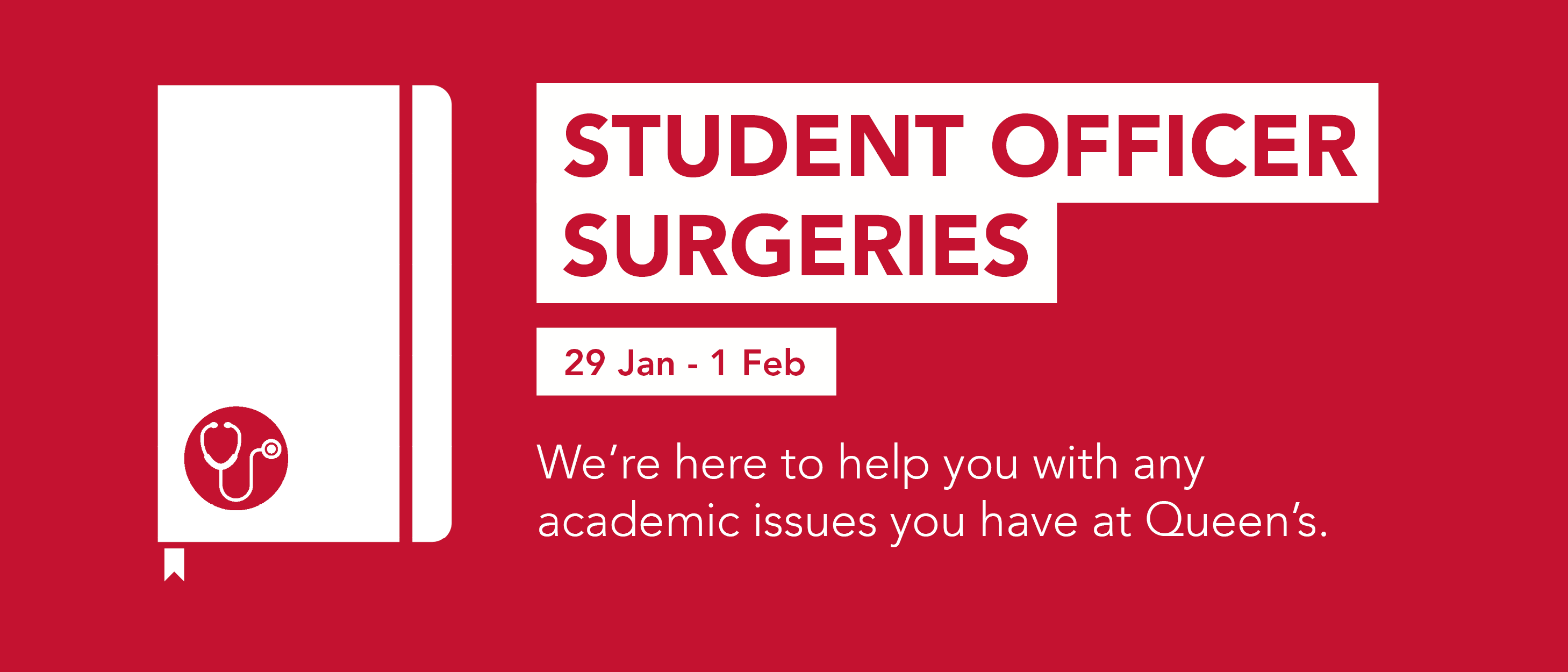 Campaign
Student Officer Surgeries
Who's running the campaign
Your Student Officer Team
What we want to change and why we want to change it
We're here to help you with any academic issues you have at Queen's.
Are you having any issues or concerns about:
the new academic year
tuition fees
grants and support funding
teaching and assessment
hidden course costs
feedback on your academic work
We'll be out and about campus from 29 Jan - 1 Feb.
There's no appointment needed - just pop by during your allocated slot to meet one-to-one with Student Officers and Staff who can help you with your queries:
Mon 29 Jan
MBC 01/004
1-2pm: Medicine, Dentistry and Biomedical Sciences
2-3pm: Biological Sciences
2-3pm: Pharmacy
3-4pm: Nursing & Midwifery
Tues 30 Jan
Lanyon Building 0G/054
2-3pm: Social Sciences, Education and Social Work
3-4pm: Arts, English and Languages
3-4pm: Institute of Theology
3-4pm: Sen George J Mitchell Inst. (Global Peace, Sec. & Justice)
Wed 31 Jan
Ashby Building 02/014
11-12noon: Electronics, Electrical Engineering & Computer Science
11-12noon: Mechanical & Aerospace Engineering
Thurs 1 Feb
David Keir Building, 02/525
11-12noon: Natural and Built Environment
11-12noon: Chemistry & Chemical Engineering
11-12noon: Psychology (Behavioural Sciences)

Thurs 1 Feb
Lanyon Building, Newark Room
1-2pm: History, Anthropology, Philosophy and Politics
1-2pm: Law
2-3pm: Mathematics & Physics
Or, if you can't make it - just complete this form and we will get back to you!